Partnership
in the world of tubes
transfluid® and TRUMPF have joined forces, to optimize your tube manufacturing process.
The partnership between TRUMPF and transfluid®

enables highly flexible combinations between laser tube cutting systems and tube bending/forming technology, as well as fully automated tube manufacturing concepts:
As one of the market and technology leaders in machine tools and laser systems, TRUMPF offers a comprehensive range in the field of laser tube processing for both cutting and 3D post-processing of bent or formed tubes.
As a globally sought-after partner for the manufacture of tube bending machines and tube processing machines, transfluid Maschinenbau GmbH attaches great importance to guaranteeing the customer the best possible added value.
Both companies are united by a strong drive for innovation with a focus on the customer and customer requirements. For this reason, transfluid and TRUMPF are joining forces to provide solutions for the complete tube processing chain, from laser cutting to bending and further processing.
On request as stand-alone machine solutions with corresponding interfaces or as fully automatic production cells.
The right machine
for your task
Cutting of the tubes via

TruLaser Tube:
1. Highly dynamic and highly flexible cutting process
Tubes and profiles with diameters of up to 254 mm and wall thicknesses of up to 10 mm for e.g. structural steel can be cut to size. Further processing such as holes, miter cuts, etc. possible.
2. Setup-free cutting process
The clamping technology allows quick changeover between materials and cross-sections without retooling.
3. Integrated weld seam detection and alignment
This ensures the controlled seam position also in the subsequent process.
4. Labeling option
Marking and labeling can already be carried out during laser cutting. The individualized tubes can thus be tracked during the further production process.
The right machine
for your task
The right system

for every requirement
5. Loading and unloading options
Round tubes, profiles, square or rectangular tubes can be introduced into the machining processes and fed to downstream processes using a variety of systems.
6. Flexible production
Tubes and profiles that do not need to be bent can also be cut and machined (e.g. for welded constructions, frame constructions, innovative tube constructions)
7. Extensive software
Perfectly coordinated software for cutting quantity optimization (nesting) up to complete production planning tools.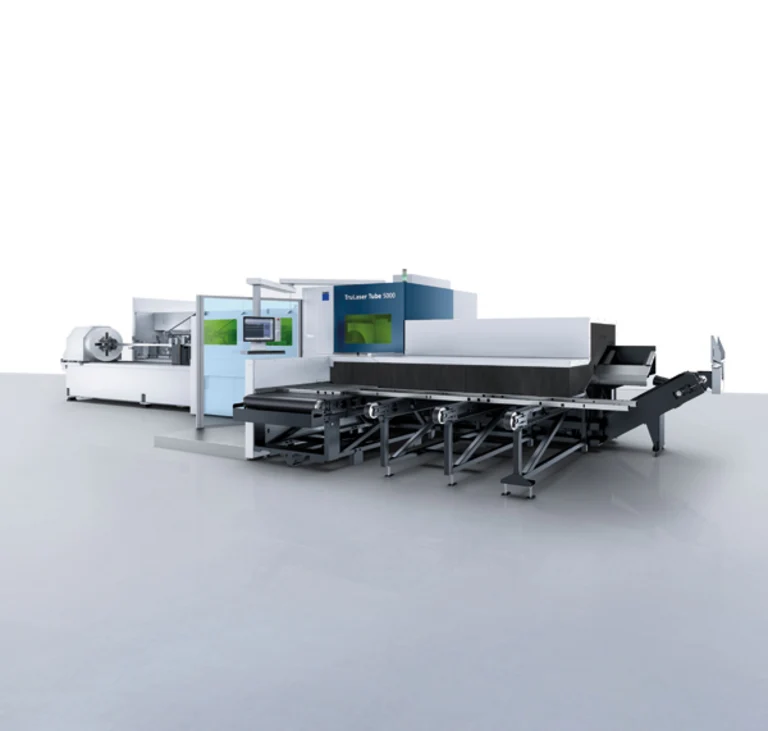 The right machine
for your task
Further processing through the transfluid® product portfolio
Manual or fully automatic loading of the tubes, direct transfer from the laser tube cutting machine is also possible.

Alignment of the tubes on the basis of the lasered

(e.g. hole detection).

3. RETRIEVAL OF PROCESS PARAMETERS

Reading and processing of the component label.

Unlimited variety of shapes is realized with the highest effort.

Highly efficient CNC bending technology for small and large bending tasks.

Collaring or forming of T-pieces via laser cuts made in advance, e.g. with the transfluid collaring machine t form AM-854.

Punching on the bending machine as a supplement when holes are too close to the sheet area.

transfluid® machines can also be equipped for bending profiles, oval tubes and square material.

Database for compensation of material data, so that the 1st component can already be manufactured with an accurate fit.

Online interfaces for data exchange between the tube laser system and the other production equipment (bending, molds, etc.).

Stand-alone or fully interlinked solutions for large series, small series or single piece production are possible.

All systems are designed and produced by transfluid® to match the bending machines. This ensures optimal integration and functionality.

11. CUSTOMER REQUIREMENTS IN LINE WITH NEEDS

Customer-, / product-oriented customization options. We design the layout that fits your requirements and integrate all desired processing and handling options.
Your advantages at a glance: Complete process chain in tube processing
Through the seamless integration of TRUMPF Laser tube cutting machines in transfluid® production cells or production lines, enormous competitive advantages can be achieved.
1. DIGITALLY NETWORKED
The hardware of both manufacturers is digitally networked and, through their interaction, makes the overall process more transparent, flexible and, above all, more economical.
2. AUTOMATIC PRODUCTION
Can be fully automated as part of a complete tube processing cell.
3. VERSATILITY
The flexibility of laser tube processing offers unprecedented opportunities to component designers across all industries. Complex designs can be cut into tubes that are not possible with conventional cutting methods.
4. POST-PROCESSING
Extensive possibilities for post-processing bent or shaped tubes with flexible 3D laser tube cutting systems such as the TruLaser Cell 5030 or TruLaser Cell 8030.
5. PROFITABILITY
Time and cost savings in production due to the reduction of work steps such as sawing, drilling and deburring.The automatic connection to the bending cell eliminates manual work steps and reduces the susceptibility to errors.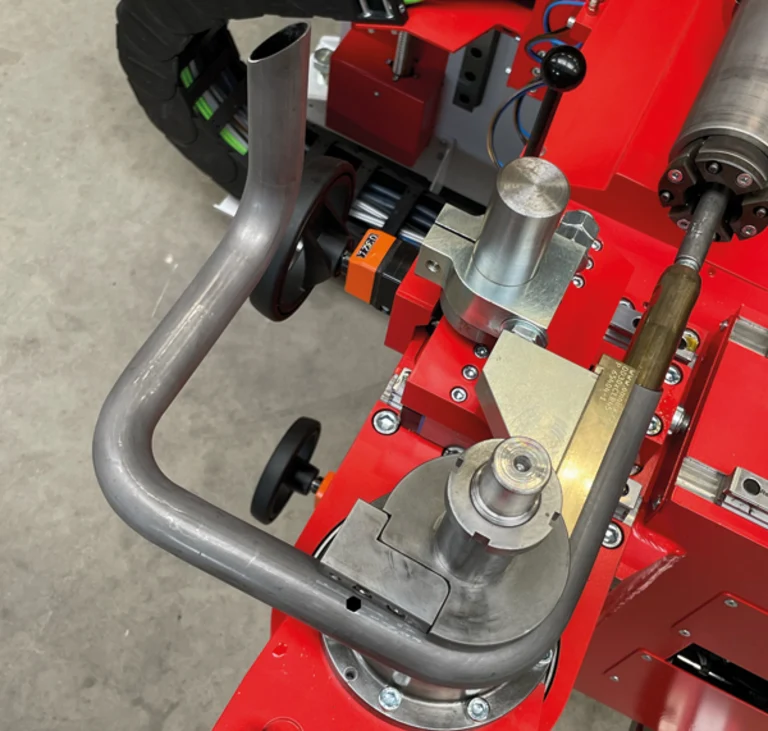 The right machine
for your task
Further benefits from the strong partnership between
TRUMPF and transfluid®:
Attractive price/performance ratio
On request, central project management by a general contractor
Attractive financing offers
Continuous advice and support in the selection process, project planning and implementation
Perfect after-sales service
transfluid® and TRUMPF have joined forces, to optimize your tube manufacturing process.
Download our new catalogue.