Get there fast with
transfluid.
transfluid® - Joins NHRA Pro Stock Motorcycle Series in 2023
transfluid tube processing machinery Inc.


becomes official sponsor of "Trick Tools Racing" in the NHRA Pro Stock Motorcycle Series.
Simpsonville/South Carolina – transfluid, a leading global manufacturer of tube processing machinery and tube bending machines is pleased to partner with "Trick Tools" to compete in the NHRA Pro Stock Motorcycle Series in 2023.
"We are excited about the opportunity to support the Trick Tools Racing team and be part of the motorsports community," said Yannick Bludau, CEO of transfluid tube machinery inc. "Drag racing is a dynamic sport that reflects our passion for innovation and speed."
For more than 35 years, transfluid has been used to manufacture a wide variety of components for the automotive and motorsports sectors. Sophisticated and precisely manufactured tubes for the numerous functional areas of a vehicle, such as brakes, air conditioning, exhaust systems, hydraulics and steering are used in large series by all renowned vehicle manufacturers around the globe. But also individual roll cages or whole chassis are produced in small series in the custom area with our bending machines.
As a technically enthusiastic company, we have an almost natural affinity for motorsports and so it was easy to take advantage of the sponsorship opportunity. In addition we have a very special connection to the rider Chase Van Sant and the main sponsor Bruce Van Sant TrickToolsRacing. Rookie rider Chase, who is in his first season in the NHRA, is the nephew of our Vice President Craig Van Sant. We are honored to be part of this racing family and look forward to an incredibly exciting season.
The partnership between transfluid and TrickTools demonstrates the connection between technological innovation and high-performance sports. "Motorsports is an outstanding field that requires technical excellence and teamwork - values that are also the foundation of our company," says Yannick Bludau.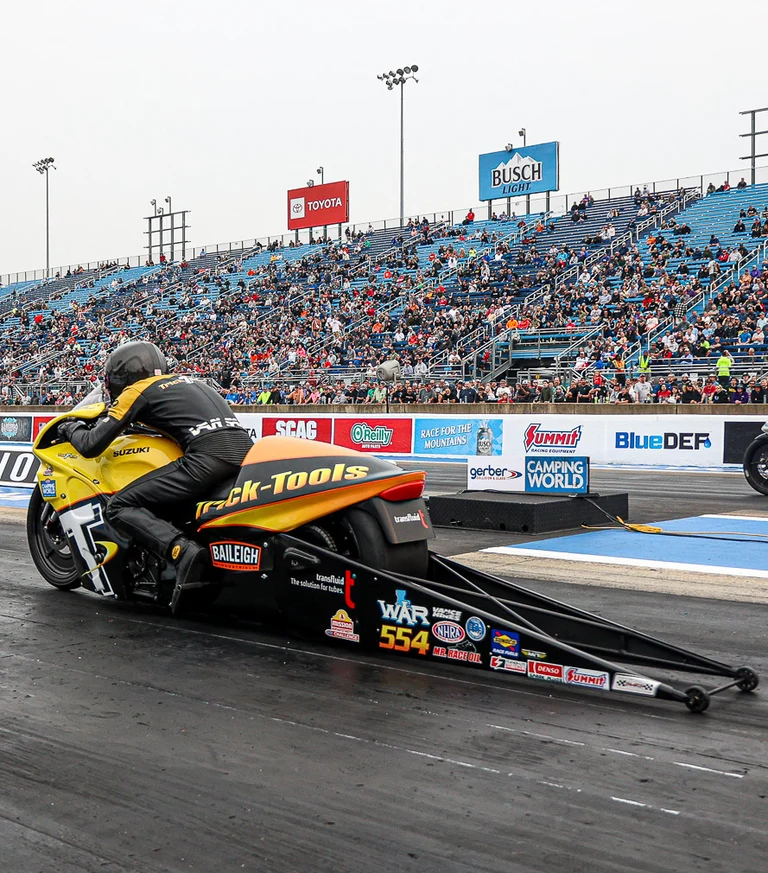 The right machine
for your task
The Driver: Chase Van Sant
Van Sant began racing junior dragsters at the age of 9 at Eddyville Dragway in Eddyville, Iowa, and competed several times in Denver at the Western Conference Finals. At age 16 he started racing street bikes in brackets and heads up no-bar events. In 2018 Chase and his father Bruce decided to get Bruce's ex-Pro Mod Suzuki freshened up to compete in the popular 4.60 index class at Man Cup and NHDRO events. In 2020 Chase won season championships in both organizations. In 2022 Chase worked as a crew member on the White Alligator Team for Jerry Savoie and Karen Stoffer. He got his Pro Stock license in Las Vegas and got the opportunity to ride for the team in 2023.
DOB: July 08 1997
Marital Status: Single
Height/Weight: 5' 10" 150 lbs
Hobbies: Metal fabrication, golf, riding dirt bikes, bracket racing, spending time with family and friends
Notables: Chase was the Iowa State Long Jump Champion in High School and competed in Div 1 Track & Field for the University of Northern Iowa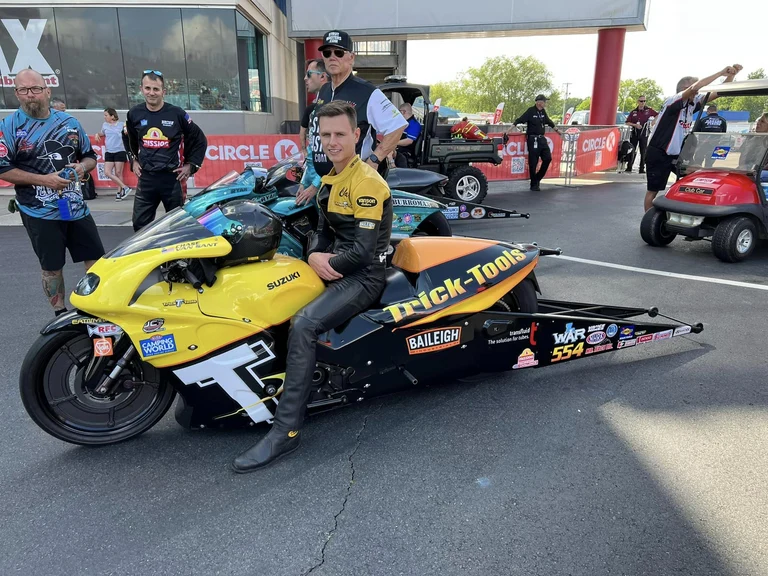 The right machine
for your task
| | | |
| --- | --- | --- |
| July 28-30 | NHRA Rd 8 | Sonoma, CA |
| August 11-13 | MotorcycleMania | Eddyville, IA |
| Sept 4 | NHRA Rd 9 | Indianapolis, IN |
| September 14-17 | NHRA Rd 10 | Reading, PA (Countdown race) |
| September 22-24 | NHRA Rd 11 | Charlotte, NC (Countdown race) |
| Sept 29 - Oct 1 | NHRA Rd 12 | St. Louis, MO (Countdown race) |
| October 12-15 | NHRA Rd 13 | Dallas, TX (Countdown race) |
| October 26-29 | NHRA Rd 14 | Las Vegas, NV (Countdown race) |
| November 9-12 | NHRA Rd 15 | Pomona, CA (Countdown race) |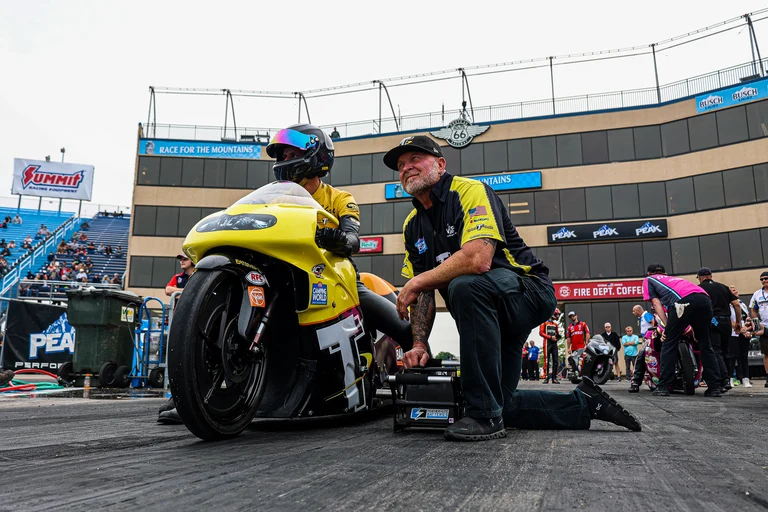 The right machine
for your task